AiFactory is sponsoring the Charizma Design Challenge this time. Visit their blog starting on July 1, 2010 and check out the great prizes!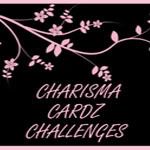 The digital art stamp is lovely -- it is from AiFactory and part of the Monthly Kit Club. The dress is from the "after midnight" series.
Click here to find the link
. I am really big into "line." The lines of fonts, the curve of a shape, the silhouette if you will. I have had my eye on this digital stamp for quite some time. You could paper piece or use any sort of colouring tool. I decided to keep it simple. I really like the contrast of the font with the curves of the dress form and the background paper. I hope you enjoy!

The pattern paper is from American Craft, the sentiment stamp is from Hero Arts and the rose is a metal embellishment from Making Memories vintage findings. I also used a red Spica pen on the finials and a Copic marker to do a bit of shading on the inkjet print out. Tag punch from Fiskars and red/gold ribbon from my stash.