Pre-Work for my new class: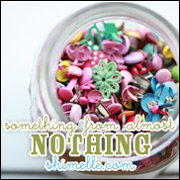 "Your mission, should you choose to accept it, is to admit that you have well...quite a bit of stash."

Head to your scrapping supplies and really think about what you have, why you bought it and why you haven't used it yet. Whatever your reasons may be, it's time to admit them to the world!

Post a picture or two of your stash (bonus points for those who get creative with the posing of their supplies for the camera, of course!) and come clean to your friends and readers. Why do you have so many supplies and what are you waiting for? You can proclaim a goal: how many pages you want to make from existing stash in the next month or how many sheets of paper/sets of stickers/yards of ribbons/etc you want to move from your stash to your albums before the end of March.